Hace ya algunos años, cuando empezó a estar muy de moda hacer pesentaciones con Prezi, me recomendaron Sozi. Pero en aquel momento no logré hacerlo funcionar, y abandoné la idea de probarlo.
Hoy nuevamente me lo mencionan y decidí darle una nueva oportunidad.
Se trata de un software para generar presentaciones a partir de una imagen vectorial creada con Inkscape
Para empezar, descargué Sozi desde su sitio web, en mi caso la versión para GNU/Linux.
Las instrucciones de instalación son muy sencillas:
Descomprimir el archivo .tar.xz descargado (botón derecho sobre el archivo descargado, y elegir "Extraer aquí")
Acceder a la carpeta install desde la terminal:
cd /home/tunombre/Descargas/Sozi-20.05.09-1589035558-linux-x64/install
Una vez allí, hay que ejecutar el archivo llamado install.sh
sudo ./install.sh
Una vez instalado, se ejecuta buscándolo en el menú, o desde la terminal escribiendo simplemente:
sozi
En mi caso, el acceso del menú no reaccionaba, y el de la terminal me daba este error:
FATAL:setuid_sandbox_host.cc(157)] The SUID sandbox helper binary was found, but is not configured correctly. Rather than run without sandboxing I'm aborting now. You need to make sure that /opt/sozi/chrome-sandbox is owned by root and has mode 4755. `trap' para punto de parada/seguimiento
Así que tuve que modificar estas cosas en el archivo /opt/sozi/chrome-sandbox:
cd /opt/sozi/
sudo chown root:root chrome-sandbox
sudo chmod 4755 chrome-sandbox
Una vez instalado, fui a Inkscape y creé un archivo con tres objetos que tienen texto: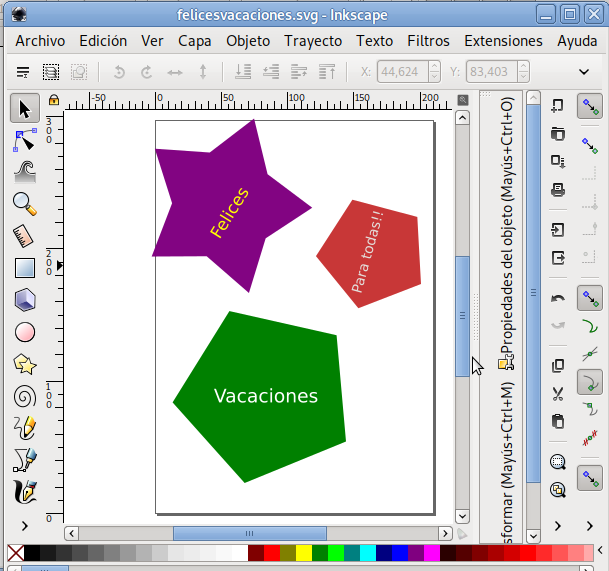 Después, abrí este archivo en Sozi. Con la ruedita del mouse y los controles para rotar y mover la imagen, posicioné la primera diapositiva.
Luego pulsé el botón con el signo + para crear la diapositiva, le puse nombre y tiempo.
A continuación posicioné la imagen para la segunda diapositiva y pulsé el botón, y así sucesivamente con las demás diapositivas.
Haciendo clic en este enlace se puede ver la presentación realizada con Sozi.